BEST SELLING PRODUCTS
---
---
---
Latest News
---
---
---
---
---
---
JURA Impressa J90 Bean to Cup in Brilliant Silver
£1,595.00
Out of Stock
JURA Impressa J90 Bean to Cup in Brilliant Silver
Taking brilliance to a new level
The all-round design of the IMPRESSA J line has already won over the judges of renowned international design awards. The design has been reinterpreted in brilliant silver alone. The modern graphics of the TFT display and the purposefully positioned chrome elements underpin the design perfectly.
The J90 is an automatic one-touch coffee machine, producing the entire range from ristretto to latte macchiato at the touch of a single button. The specialities are selected using the Rotary Switch. An Aroma+ grinder grinds the beans at twice the speed without impairing the aroma and the revolutionary fine foam technology places a light-as-air milk foam crown on every latte macchiato or cappuccino.
Visual brilliance
The front of the elegant automatic machine is finished with a high-quality double coat of metallic-look brilliant silver lacquer. The stylish white aluminium top, sides and back complement the beautiful all-round design.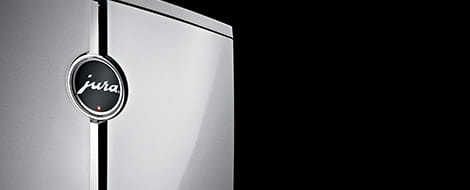 TFT display for selfexplanatory, intuitive operation
The operating concept couldn't be clearer, simpler and more intuitive. Simply turn the Rotary Switch and a list of speciality coffees appears on the TFT display. Just press the button once, and you'll soon be enjoying a delicious cup of coffee. The modern graphics coupled with the machine design paint a harmonious picture.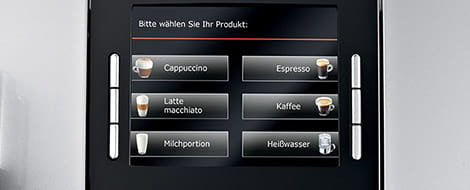 Aroma+ grinder now twice as fast for fully preserved aroma
By perfecting the cutting angle inside the grinding cone, the JURA engineers have managed to increase efficiency significantly. As a result, the perfect aroma can now be achieved in all its natural fullness in half the grinding time. So now coffee lovers can enjoy pure and perfect coffee indulgence with less preparation time and less noise.
Foam of the finest
The height of the cappuccino spout for latte macchiato and cappuccino and the coffee spout can be adjusted on a continuous scale. This allows you to create the perfect specialities both in a small espresso cup and in a latte macchiato glass up to 153 mm tall whenever you want. The integrated fine foam technology from JURA ensures unique milk foam quality with a fine, feather-light consistency.