BEST SELLING PRODUCTS
---
---
---
Latest News
---
---
---
---
---
---
JURA Z6 Bean to Cup Machine in Black
£2,145.00
Out of Stock
JURA Z6 Bean to Cup Machine in Black
A world first: P.E.P.® from JURA
Pulse Extraction Process produces the perfect espresso
For the Pulse Extraction Process (P.E.P.®), innovation leader JURA took its inspiration from the world's best baristas. The result is a revolutionary technology that optimizes the extraction time, allowing even short specialty coffees like ristretto and espresso to be prepared with an intensity and breadth of aromas like never before.
The Z6 moves into completely new territory, taking the automatic specialty coffee machine to the next level. The state-of-the-art generation of coffee machines is an impressive showcase of Swiss innovation. It achieves a brand new standard of quality across the whole spectrum of specialty coffees, from the short, fiery ristretto to the popular, mellow flat white.
The purest quality espresso
JURA has perfected the complete brewing process for ristretto and espresso. That's why the Z6 is able to prepare coffee to the same standard as the best coffee bars. The pulse extraction process (P.E.P.®) allows the whole bouquet of aromas to blossom.
Result: possibly the best espresso of all time – at the touch of a button.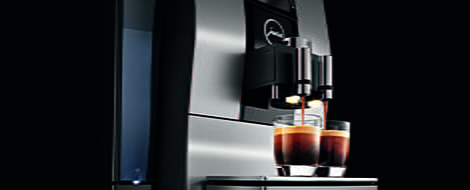 Crowning ceremonyFor in-vogue speciality coffees finished with milk and milk foam, the crowning ceremony is expertly performed by the Z6 at the touch of a button. The machine switches from milk to milk foam fully automatically. As a feature making its world debut in domestic coffee machines, the milk temperature can be varied according to personal taste.
Intelligent Water System (I.W.S.®) for automatic filter detection
The Z6 is the first automatic speciality coffee machine to feature automatic filter detection thanks to modern RFID Technology. Using a filter has never been easier, more effective or more reliable.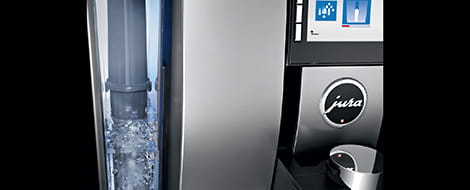 Refined functionality
The Z6 packs incredible performance into compact dimensions. All the control elements are conveniently accessible on the front. The removal of the water tank and refilling of the bean container also take place conveniently from the front. The user can rename the different speciality coffees and position them on the start screen. There are no limits to the imagination. Maintenance is just as easy as preparing a coffee: one touch of a button is all that's needed.