BEST SELLING PRODUCTS
---
---
---
Latest News
---
---
---
---
---
---
JURA ENA Micro 90 Bean to Cup Machine
£845.00
Out of Stock
JURA ENA Micro 90 Bean to Cup Machine – Silver
JURA is proud to present the world's smallest One-Touch automatic cappuccino machine: the new ENA 90 Micro One Touch.
This machine is actually 11% shorter than the compact ENA line. This is down to the newly developed brewing unit, which is perfect for preparing a single cup and ensures top-quality espresso results. Its smaller design helps it make a real impact, which is further reinforced by the stylish Micro Silver colour.
Smallest One-Touch automatic cappuccino machine
Simple operation
Extremely straightforward height adjustable dual spout (55 – 138 mm)
Wide range of specialities: latte macchiato, cappuccino, café crème, espresso, hot water serving
Fresh beans: Inside the bean container, there is an aroma preservation seal to keep the coffee beans nice and fresh.
Energy efficiency: energy efficiency class A set by the FEA*
* Swiss trade association for domestic and industrial electrical appliances
The first one-cup machine in the world with P.E.P.®
As a modern one-cup machine of the latest generation, the ENA Micro 90 dazzles with a wide range of speciality coffees, unique coffee quality, intuitive operation, compact dimensions and perfect hygiene. The Pulse Extraction Process (P.E.P.®) optimises the extraction time and guarantees maximum aroma with short specialities like espresso.
The compact one-touch machine from JURA can prepare the full range of specialities, from latte macchiato, cappuccino and milk foam to coffee, espresso or hot water – at the touch of a button. And with its energy-saving mode it also offers outstanding energy efficiency.
The first one-cup machine in the world with P.E.P.®JURA has perfected the complete brewing process for short speciality coffees from 15 ml to 80 ml. That's why the ENA Micro 90 prepares them to the same standard you would expect in a coffee bar. The AromaG3 grinder, now twice as fast, ensures that the coffee is optimally ground to preserve the full aroma.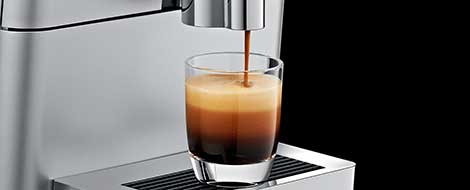 Wide range of specialities
The ENA Micro 90 can do much more than 'just' make the perfect coffee: thanks to the One-Touch technology, it also creates trend specialities like latte macchiato and cappuccino at the touch of a button with milk and milk foam. It can also prepare a portion of milk foam with equal ease.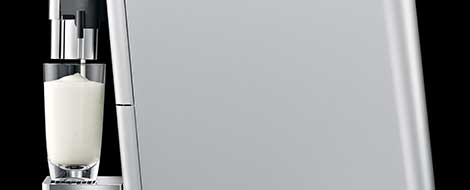 Self-explanatory operation
The clearly laid out operating module exudes the elegance of simplicity with its subtle, slotted buttons. All settings and programme functions can be selected by simply turning and pressing the Rotary Switch.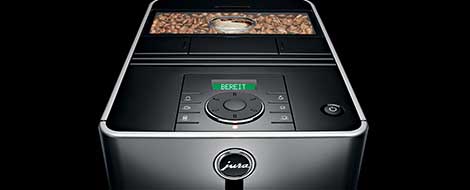 Compact elegance
The ENA Micro 90 packs dazzling functionality into its compact dimensions. It will fit into a small space while cutting an elegant figure with its relaxed, clean lines. The way it leans towards the user expresses expertise, while the colours convey perfect harmony.